Your Woodworking shed or workshop
It's very easy to fall in love with your shed.
I can tell you that we all enjoy spending so much time in our sheds for a variety of reasons. Personally, I don't believe we go to sheds to escape the problems of the world; rather, I believe we go to sheds for the creative freedom they offer and the chance to prove to ourselves that we are more than the job we do each week.
Once outfitted, our sheds have the potential to significantly contribute to the maintenance and aesthetics of our homes. Another advantage of honing our woodworking skills and constantly improving our sheds is that they become an excellent addition to the property and can significantly increase the value of our homes when we sell them.
Don't underestimate the value of a fully functional woodworking shed approved by the local government, assuming it meets all of the local environmental needs such as acoustic levels (your soundproofing efforts). Some sheds become so beloved by their owners that they transform into works of art in their own right, and you may end up creating an addition to the house that is far more valuable than you could have ever imagined.
Set up a creative workspace in Your woodworking shed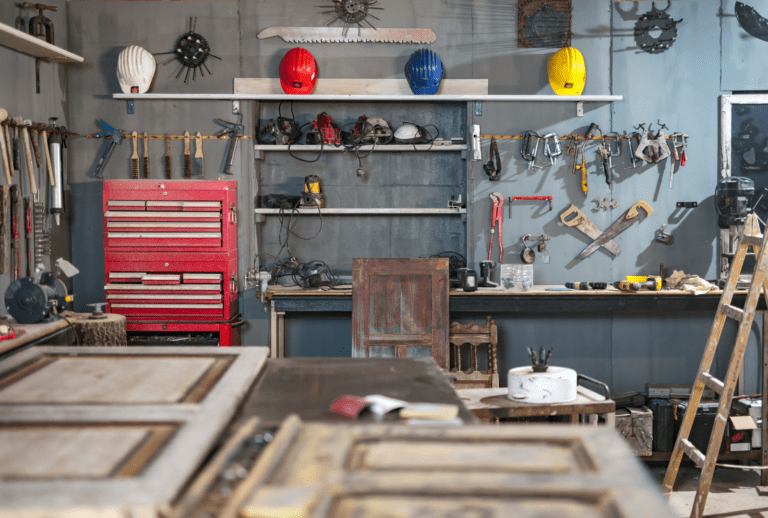 If you're new to woodworking, it's critical to plan out the layout of your work area ahead of time. Before committing to any new long-term locations and expensive equipment, you could start with some simple projects in your existing shed/garage.
A well-designed woodworking space will allow you to hone your skills in a safe, efficient, and enjoyable setting. Unless you are transitioning from a woodwork hobbyist to a full-time professional, having a fully equipped dedicated woodworking space may not be necessary.
Naturally, the extent of the area accessible to you will be determined by your personal and/or family circumstances, but with proper planning and a little bit of cleverness; you can definitely make it work. Converting a sturdy table into a workbench and acquiring only a few basic tools is a cost-effective way to get started. You'll eventually need to convert your makeshift shed space into a woodworking workshop as best you can once you've decided to improve your skills and get serious with your woodworking.
Setup your Woodworking Bench
Every woodworker's shed requires a strong, sturdy workbench. A thick hardwood top is ideal for a work surface, and the workbench's top needs to be level.   For stability, the bench framework should be made of a strong hardwood and reinforced. A workbench's normal height is between 800mm and 850mm. The woodworking vice you install should be of high quality and capacity. Install your Vice set as close to one end of the legs as possible to avoid flexing the tabletop and a bench stop and dog holes should be installed.
Do you need to buy a new Shed?
Should You Build or Buy a New Shed? When it comes to Build vs. Buy, there will always be very valid points on both sides of the fence, but if you are interested in the Buy option, I might be able to offer a few ideas.
Ranbuild - Delux Horizontal Clad Garage with Eaves
The horizontal Colorbond cladding from Ranbuild will give your new shed a distinct appearance that complements the surrounding structures. Your new woodworking workshop will have plenty of space in this garage.   It's made entirely of Australian BlueScope steel and as a result, you can be certain that it will withstand even the harshest Australian weather.   
Colorbond colours are available in a variety of shades, allowing you to match the style of your new Woodworking Workshop to the rest of your home.
Fair Dinkum Builds - The Residential Garaport
Fair Dinkum Builds' Residential Garaport can be anything you want it to be: a woodworking workshop, storage space, home gym, or anything else you can think of. Fair Dinkum Builds allows you to experiment with features such as partition walls, lean-to lengths, mezzanine floors, insulation, personal access doors, and more when designing your Garaport.   Because it is built to Australia's high building standards and is ShedSafe certified, you can be confident that your Garaport will last.
Bestsheds - Triple Garage
A three-bay garage can house a substantial amount of woodworking space. Bestsheds provides numerous customization options, allowing you to turn your vision into a reality.   They come in five different colours, and your shed can be customised with a variety of options, including insulation if necessary. When it comes to making your Shed blend in with existing structures and reflect your unique style, you have a lot of options. 
They also offer a variety of American Barn Sheds.
Easyshed's - Workshop Shed
If your new woodworking workshop needs to be a little smaller due to backyard space constraints, Easyshed's Workshop shed models may be the perfect solution for you.   They have a welded steel centre beam for added strength and this particular unit has plenty of space for benches and equipment. Measuring 6.00m (w) x 3.00m (d) x 2.40m (h), and made of Bluescope steel, this very much an ample amount of space for a Woodworking Workshop.
Health, Safety and Security for You & Your Woodworking Shed.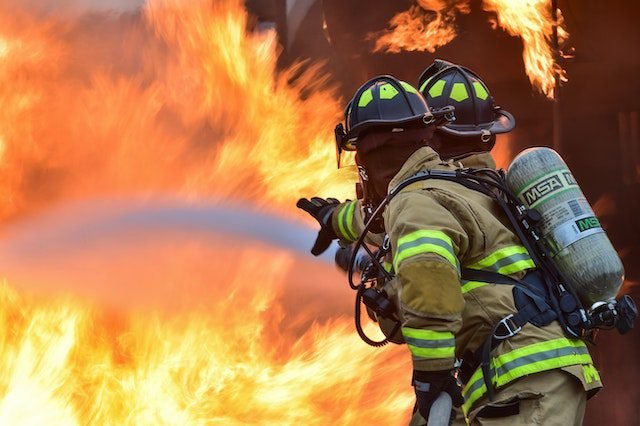 Working alone in a home-based woodworking shed or a small industrial woodshop that you rent or own carries a few risks. Aside from the location of your workshop (which could be out of town) and the potentially hazardous nature of some of your equipment, have you ever considered what could go wrong and what you would do if it did?   If something serious happened to you one day and you needed urgent transport to a hospital, are you confident that you have this situation covered?
Consider creating a risk assessment; this way, you'll work out all of the control measures that need to be implemented in order to minimise, and hopefully eliminate, all of the risks associated with you working alone in a workshop with a variety of tools and equipment that can cause serious harm, as well as if you become ill unexpectedly.
Aside from health and safety concerns, you should consider the security implications of having thousands of dollars in tools and equipment conveniently housed in a single location that is only occupied for about 9 hours per day.
You'll be surprised at how many things come to mind; even if the likelihood of something happening is low and the impact of it happening is minor, it's still worthwhile to record all of this information.
Below are a few things you might consider.
What methods of external communication are available in the workshop? Mobile phones, landlines, CB radio, 2-way radio, and so on.   You might consider wearing a bluetooth earpiece or headset?
What if you sustain a serious injury but are unable to contact emergency services? Have you thought about starting up a health-checking routine with a friend or family member? Someone who could call in during the day to make sure you're okay?
Do you have an emergency system in place with emergency push buttons strategically placed around your workshop that you could use in an emergency?
It should be loud enough to warn your neighbours (whether residential or industrial) that there is a serious problem. You should also perform a brief test on this alarm for a few seconds at a specific time on a specific day of the week, say 9 a.m. every Friday, and provide them with a letter explaining that this is something you will always do (except on days when you are not working) and that you would never perform a test at any other time. This assures your neighbours that if they hear the alarm sounding outside of 9 a.m. Friday, an emergency situation is occurring with you.
Do you have any smoke detectors, fire alarms, or fire extinguishers? Perhaps you've spent big on an automated fire alarm system? Do you have an adequate supply of fire extinguishers of the appropriate size and type? What about fire blankets?  One of the best ways to make sure you are covered in this area is to get a Fire Safety and Audit Inspection done.
How secure is your workshop?   What safeguards have you put in place in case someone or a group of people decides to steal all of your possessions one night? It would be heartbreaking to arrive at your workshop in the morning to find that thousands of dollars' worth of tools and equipment has gone missing. Sure, you'll have insurance, but instead of putting your trust in an insurance company doing the right thing by you, invest time and money into making your premises extremely secure.   For instance, do all of your workshop's doors and windows have adequate locking and integrity? Are they strong enough to withstand an intruder? Are you able to make them more secure?
Are you sure you have all the correct Personal Protective Equipment (PPE) for the work you do?
Are you physically fit for work? Do you know if you have any underlying medical issues? Do you visit your doctor on an annual or bi-annual basis? An undiagnosed health condition could strike you at work one day and put you in grave danger.
With regards to First Aid Supplies and Training, do you have an adequate supply of fully stocked first-aid kits? Do you have any first-aid training or prior practical experience?   It's one thing to keep a few well-stocked first aid kits in your workshop, but if you don't know what you're doing, you could end up putting yourself in danger one day when you need to act quickly and accurately.