Make your home beautiful by renovating your bathroom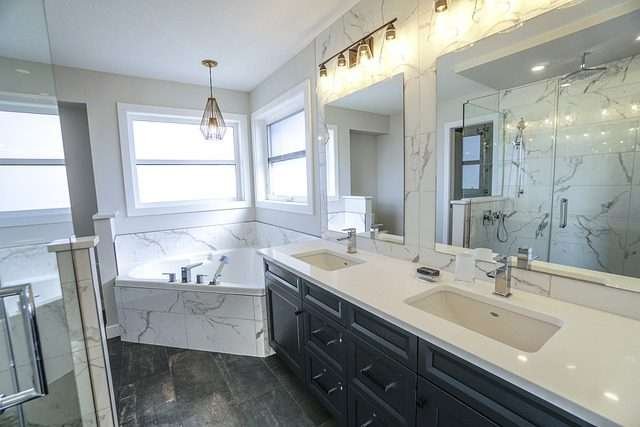 Do you want your home to be more interesting, appealing, or one-of-a-kind? While many homeowners are happy with their current residence, others desire something more. If you're feeling like this, it's probably time for you to initiate a change.
Contrary to popular belief, that change does not have to entail demolishing your current home and constructing a new one; instead, the solution can be as simple as renovating various rooms in your house one at a time, making them incredibly unique and beautiful in the process.
Whether you want to flip your house for a profit or beautify one of the most important rooms in your home, the main bathroom is a great place to start. Modern, sleek, well-planned bathrooms will be greatly appreciated by your family and almost certainly by prospective buyers.
The reasoning behind this is that you and other members of your family use the bathroom for at least 30 minutes per day on average. That equates to 182 hours per person over the course of a year. For a family of five, that equates to 910 hours of bathroom time per year. To put that into perspective, if you took your family of five on a one-week vacation every year, that would be 5 x 24 hours per day x 7 days = 840 hours. When all costs are considered, you could easily spend $10,000 on a very enjoyable one-week family vacation.
This, in my opinion, means that because we all spend so much time in our bathrooms, they should be exactly how we want them to be.
When you consider how much time you and your family spend in the bathroom, as well as how much time friends and family spend in theirs over the course of a year, the bathroom quickly becomes the second most visited room in the house after the kitchen. A dated or poorly designed bathroom, for example, will not appeal to a picky buyer.
A bathroom can sometimes be a place to escape to when nature calls; in addition to any biological needs it may serve. People don't tend to question you too much when you spend a significant amount of time in the bathroom, and if you're looking for some peace and quiet to read or play games on your phone, there aren't many better places to find it.
The bathroom is probably more important than you realise, whether it's the first stop in the house after a long drive, escaping your better half when they're dishing out tasks, or getting a break from the kids when they're running wild.
To understand how much value a specific room of the house carries, consider how much value any renovation efforts add to the total resale value of the house in dollar terms. Good quality and thoughtful bathroom renovation work will return you at least $4 for every $1 spent, so if you can do a fantastic job on your bathroom without going broke, it can be one of the most important rooms in your house to focus your efforts on.
Beauty is in the eye of the beholder, so what looks fantastic for you may not always be that appealing for someone else, so make a list of all your bathroom renovation ideas and then do some research on them to ensure you're not wasting any of the family's money.
You could easily replace a minor component of your bathroom, such as the toilet, sink, or bathroom unit, or you could completely renovate the space. You'll need supplies for whatever scope you agree on, and I recommend that you devote significant time and effort to your design/plan; the better your plan, the less money and time you'll waste on supplies that are either incorrect or that you change your mind on later.
If you're renovation your bathroom in a house that you intend to keep for a long time, then you should look at the renovation scope in that light. If you don't like how your bathroom looks and feels, then there's a good chance that the rest of the family feel the same way. You might want to be a bit more intrusive with stripping apart your existing bathroom if your house is a keeper. Being a room that's often wet and damp, it's a good excuse for you to check whether your bathroom actually requires a lot more work than you even realise. It could turn out that your bathroom is actually in pretty bad shape, you might discover a previously undetected mould problem.
Having a bathroom in bad shape is not a great idea when you consider it's one of the most often used rooms in the house. Bathroom floor tiles that have become loose, mould, and other issues can not only be unsightly, but they can also be hazardous. It's possible that renovating your bathroom will become a health and safety requirement more than anything else.
You may be debating whether to purchase bathroom remodelling materials online. Personally, I believe that shopping for bathroom renovation supplies online gives you a better chance of finding exactly what you're looking for, saves you a lot of time, and ensures you get the best possible deal. The only downside that comes to mind with purchasing these types of supplies online (if there is one) is the cost of delivery, but you can get lucky when some online sellers give shipping discounts if you spend a particular amount of money, so doing some research pays off.
In conclusion, if you suspect you should renovate your bathroom, then you probably should. Develop a good quality plan, do stacks of research on materials and then stick to your plan and stay on budget as best you can.
Sure, there will be some stress and frustration during the project but you'll be ok, it happens to everyone and you'll love spending time in a bathroom that's perfect for you and your family.